Multi-Axis Servo System
The multi-axis servo systems consists of motion control modules by Promicon Systems and servo power modules by ESR. It is particularly suited for coordinated multi-axis applications, e. g. in handling and assembly systems or pick+place applications.
What is so special about the multi-axis servo system by ESR is: You can use any type of servo motor with it, e. g.:
AC servo motors
DC servo motors
Direct drives
Torque motors
Linear motors
Solenoid motors
2- and 3-phase motors
1 to 50 pole pairs
This page provides you with an overview of the multi-axis servo system. Detailed information on a specific module can be found in the data sheet 6620.250 – TrioDrive C / MidiDrive C.
Motion Control Modules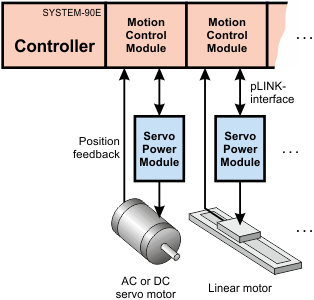 for coordinated motions of multiple axes
with integrated digital position and velocitiy control for highest accuracy
integrated in the SYSTEM-90E controller system by Promicon Systems
highest flexibility and dynamics due to multi-tasking operation and minimum reaction times
suitable for various position feedback systems (resolvers, incremental encoders, etc.)
connection to the servo power modules via uniform pLINK interface
integral system diagnostics with alarms and log file recording
digital parameterization, programming, and monitoring of the system with just one software
integration in higher-level controller systems via Profibus, Interbus, OPC, or pNET (RS 232)
Servo Power Modules
for flexibly driving various motor types
compact design for direct mains connection
easy connection to the motion control module with standard RJ45 cable
several devices can be mounted directly next to each other (without lateral gap)
suitable for servo motors by ESR Pollmeier or other manufacturers
for motor powers from 100 W to 11 kW
frequent switching off and on without waiting time possible
Overview of the Servo Power Modules
Device family
TrioDrive C
MidiDrive C
Design
Compact
Compact
Mains connection
(wide range input)
direct, 230 V∼ (42 .. 253 V)
direct, 3 × 400 .. 480 V (85 .. 528 V)
DC-bus voltage
320 V DC
560..680 V DC
Rated current
2 .. 6 A *
2 .. 20 A
Peak current (crest value)
5.5 .. 17 A
5.5 .. 55 A
For any type of servo motors
up to approx. 1.8 kW
up to approx. 11 kW
Switching frequency
16 / 32 kHz (setting via parameters)
8 / 16 / 32 kHz (setting via parameters)
Dimensions ** w×h×d
60 × 175 [195] × 200 mm
85 × 255 [275] × 200 mm (2 .. 8 A)
150 × 270 [305] × 200 mm (12 .. 20 A)
* Operation of the BN 6623 power module (6 A device) is permissible without restriction at a loading of 70% or less. At higher loading, the device has to be mounted next to a control cabinet fan or has to be equipped with a subassembled fan.
** without [with] mounting straps
You can find more information in the data sheet 6620.250 – TrioDrive C / MidiDrive C.